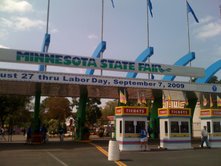 As I settled in to visit with fairgoers at the Minnesota State Fair before noon today, an elderly gentleman approached me determined to ask me a question or two. His first question: why didn't I have a tie and a jacket on? With a sideward glance he was pleased to see that I had shaved that morning (and he told me so) and after learning we are required to wear a tie and jacket on the Senate floor, he seemed much more at ease. He did move on to some more pressing issues, but sizing up this politician was first and foremost on his mind.
Today, I spent a couple of hours at the Fair in the Senate Booth. You've probably seen us, right next to the House of Representatives booth, as you wandered through the far corner of the Education Building. Perhaps you've filled out a survey or visited with one of the Senators spending some time there.
Minnesotans are seldom at a loss to express their concerns or ask a pertinent question. Today I heard about several national concerns dealing with health care, the budget, President Obama, and social security. People were on both sides of the health care debate and everyone had an opinion. Several folks expressed the importance of investing in education. One gentleman wanted to talk about speed limits as they apply to trucks on the interstate while another wondered aloud how we can find more revenue for roads and bridges. Another brought up the idea of a unicameral legislature and was disappointed that it was not part of the survey. I heard questions about nursing homes, long term care, and all types of transit. Many people stopped by just to chat about politics in general while others politely inquired about my own personal background or the district that I represent. I enjoyed the conversations.
If you get to the Great Minnesota Get Together this year, stop by the Education Building (a block North of the entrance) and visit with some of the staffers and legislators of the Minnesota House and Senate. Jacket and tie are optional.