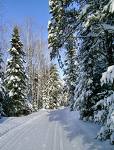 The US Fish and Wildlife Service has been purchasing land in the Minnesota River Valley with the intent to provide additional acreage to the National Wildlife Refuge already in place there. That is an admirable and worthwhile goal. Unfortunately, they have decided to ban snowmobile use on newly acquired lands, specifically on trails that have been in existence there since the 1970s. These trails have successfully co-existed with those uses outlined in the Fish and Wildlife Service's guidelines since the trail's inception. Snowmobiling groups and I have been working with our representatives in Congress as well as those at the Fish and Wildlife Services in hopes of finding a solution to the problem before the first snowfall. Even a waiver for conditional use of the established Grant-in-Aid snowmobile trail this winter season seems to be a reasonable compromise.
There is much at stake. The city of Henderson depends on the patronage of snowmobile traffic to help them through the winter months. Other cities will also be impacted by dwindling patronage if this vital link in the trail system is unavailable. In addition, local fire and rescue utilize the established trails to access the river bottom lands. Reduction in this accessibility affects their plans in the event of emergency situations. Snowmobiling is a favorite winter pastime for thousands of Minnesotans. Snowmobiling also helps provide a large number of recreation opportunities for other trail users since the majority of snowmobile trails in Minnesota are open for multiple uses and help provide important winter access, services, and trailheads. Rerouting of the existing trail, in this case a steep ditch, poses many safety issues including the crossing of county roads, many without shoulders.
Snowmobiling provides opportunities for families and friends to enjoy wintertime companionship while experiencing splendid scenery like no other season offers. These opportunities combine to help teach respect and conservation of the environment, while instilling a strong appreciation for private and public lands.
"This country will not be a permanently good place for any of us to live unless we make it a reasonably good place for all of us to live." – Theodore Roosevelt, 1912